August 26th, 2016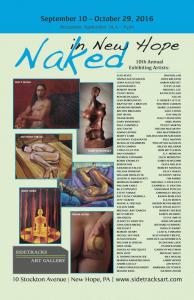 I am delighted to have three of my beautiful original drawings and paintings selected for this year's Naked in New Hope Exhibition.

The reception is on September 10, 2016, 6 - 9 pm, SideTracks Art Gallery, 10 Stockton Avenue, New Hope, Pa. Here's hoping that many of you can attend. However, if you can't make the opening, the show will continue through October 29, 2016.
February 24th, 2016
Making babies should be exciting, fun, and never a chore. It's about keeping it sexy and romantic while you are trying to conceive. The Fertile Fizz is a compelling book combining wonderful advice from fertility expert Jani White while adding an erotic twist that tackles head-on the undermining emotions of not conceiving, with 45 illustrations by yours truly and erotic poetry interspersed throughout. Take a look at the Kickstarter project and become a backer so that we can get this special book published.